Welcome to August's Writerly Witterings, the monthly blog I write to motivate, support and inspire other writers.
I write this blog in conjunction with my other blog series, 'Writing to Help Yourself.'
If you prefer to watch the content, instead of reading it, click below.  You'll soon learn why I call it Writerly Witterings!  You will also find several free short courses available on my YouTube channel.
This month, the theme is writing community.  My experience of this over the years has been really positive.
The writing community consists of people who are usually supportive and celebratory of one another.
I'm going to talk about what I miss about the 'offline' experience and what I have been enjoying about the online one.
It is not like a lot of 'competitive' industries, as we know that our readers will read many books and there are lots of opportunities for all of us.  We simply do not need to compete with one another.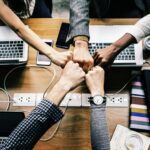 The following things are what I miss the most, since we've been 'confined to barracks' over the last few months.
Spoken Word/Open Mic Nights – always a good opportunity to socialise with other writers locally, relaxing and enjoying having a listen to the writing of others, whilst having the chance to air my own – very confidence building!

Writing Conferences – I've missed a couple of these this year.  They're a great day out and I learn so much at the feet of authors who are further along their author journey.  I always return feeling utterly inspired.
Literature Festivals – Most of these are held in March and October.  I miss the one-off workshops led by other authors, where two hours seems to pass in twenty minutes.
I always emerge with a piece of work I'm proud of.  Festivals are also full of entertaining and inspiring talks from other authors and poets.
My Taught Classes, Writing Retreats and Space To Write Days – gosh, how I miss working face-to-face with the writers who attend my workshops and courses.
To be able to inspire, support and motivate other writers is a real privilege, especially when I can watch them grow in their writing confidence, whilst progressing towards publication.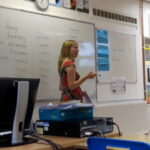 Because of the last six months, much of this has gone online. On the whole, this is not necessarily a bad thing.
I think it has persuaded many writers who once avoided the online community that it is nothing to be wary of, and can be really beneficial, particularly if the time spent online is carefully managed and doesn't steal away your writing time.
Many book discussion groups have gone online and you don't need me to tell you how important it is, as a writer, to keep reading!
Literature festivals and conferences have also gone online, and although it's a shame not to have the personal interaction, especially with writing being such a solitary occupation anyway, it's great to have the reduced price tag.
Personally, I've also been getting more writing community value through interacting on Facebook, Instagram and Twitter.  Here's how:
Facebook
This is the social platform I spend most time on.  The good thing about Facebook is that you can tailor your news feed according to what you are interested in, so mine is full of other authors and writing organisations.
Groups are big news on Facebook – I have created Facebook groups for all my online courses and for my Advance Reader Team. I have also joined groups, such as Ten Minute Novelist and Writer's Group.
It is a good idea to set up a separate author page to keep your writing life apart from your personal one.
You can find my author page at @writermariafrank
Instagram
I enjoy all the inspirational writing quotes that appear on my Instagram newsfeed, but I also get lots of value as a reader, by following book bloggers - I learn about reading trends and what is popular.
Instagram is also good for short verses of poetry.
You can find me on Instagram at @writermaria_f
Good hashtags to search on are #amwriting #authorsofinstagram #writingtime and #writerswrite
Twitter
I love following other authors and aspiring authors.  I am always inspired by their success stories.
It's great to feel as though we are all in the same boat and experience the same challenges in our writing journeys, no matter what stage we're at.
You can find me on Twitter @writermaria_f. 
The twitter profiles I most enjoy following are @novelicious and @writingandediting.
Good, active hashtags to search on are #WritingCommunity and #amwriting
Before I go, just one or two things to draw your attention to:
If you're not already on my 'Keep in Touch' list, click here to join.  I will send you a free writing booklet, 'The 7 S.E.C.R.E.T.S. to Achieving Your Writing Dreams,' as well as some other writing-related freebies.
If you would like to try a FREE first session of one of my online creative writing courses, message me and tell me which course you are interested in. (Novel, Life Story, Short Story, Poetry or Introduction to Creative Writing.)
I'm teaching two face-to-face writing courses in Otley from 3 October (Hopefully!!) More info here.
I'll be contacting everyone who is booked on my Space to Write Days soon with proposed rescheduled dates (again, fingers crossed!)
Thanks, as always, for your interest and support.  I'll be back next month talking on the theme of investing in yourself as a writer.
My 'Writing to Help Yourself' series will focus on money issues.
Take care and keep writing!
With best wishes,
Maria Frankland

Access to ten 'The Foundations of Writing' helpsheets.
A free signed paperback (after 6 months of being a patron.)
A monthly invite to submit questions and take part in the monthly writer's Q&A, where I will answer questions on any aspect of writing.