Welcome to August's 'Readerly Ramblings' – it's lovely to have you here.  Every month I write a blog post to keep in touch with the little reading community I have built around my three, soon-to-be-four books.
I love hearing from my readers, so keep those messages coming!  It's been great to learn that there are also several aspiring writers amongst you, and I've already pointed some of you in the direction of some of the free creative writing mini courses I have on YouTube.
And on the subject of YouTube, this blog post is also available as a video for those of you who prefer to listen and watch.  Click below.
The theme of this month's 'Readerly Ramblings' is creating characters.
Perhaps we could start by you asking yourself the following questions as a reader.
How important is it that you care about, and even like, the main character?
Are you more likely to keep reading a book if you can relate your own life experiences to those of one, or more of the characters?
Do you often feel sad at the end of a good novel at having to leave the character you've got to know behind?
Which characters have made the most impact on you in your time as a reader? Why have they stayed with you?
It would be great if you posted your thoughts into the comments box below.  I've already mentioned how much I love to hear from you!
As an author, I'm aware of all the above factors.  That is why:
I get to know my main characters in lots of depth before I start each novel. I have a physical appearance or a photograph and I complete a 'character profile,' where I consider things like their greatest fear, ultimate dream, talents and background.  If I don't know them well, how can I ensure you will?
I then write a monologue for each character, telling of where they are in life. When I read it aloud, it somehow helps me to hear their voice.
I have to care about my characters. As a writer of domestic thrillers, my characters are often acting from a darkness inside them but there's always a reason for that darkness.  Even villains have a good side.
I spend so much time with them whilst I'm creating and editing each novel that they literally start to live within me. I can hear their voices.  It's very exciting!
I feel sad when I get to the end of writing each novel that it's time to let the characters go.
But then they go out into the world … and meet you.  They cease to be products of my imagination, and become products of yours.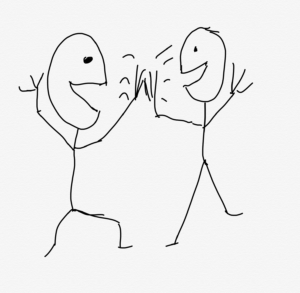 Like many writers, I can be a bit of an introvert.  I enjoy working at home, writing away in my own company, whilst keeping in touch with the outside world through messages and social media.  After all, I've got my characters for company.
All day long, I'm creating conversations, hearing my character's voices,  and making their decisions for them.  I'm never lonely!  Some might think I'm a bit daft, but for me, it's wonderful.
My next novel, 'Left Hanging,' pictured below is now in its final stage of production before being sent out into the world.  My wonderful Advance Reader Team are giving it the once over, so I'm waiting with bated breath to see what they make of the characters.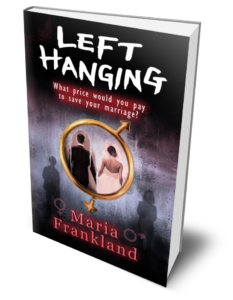 The story is told using alternating chapters, narrated in turn by Kerry and Ed, a married couple who begin the story having it all. 
It will be interesting to see whose side you end up on as you progress through the story – which character you will form more of an allegiance with, as it's the first time I've used two main characters.
The book is now available for pre-order and early birds (well early readers!) who buy the book in its launch week can click a link in the back of the book to take part in a prize draw, and win the most exclusive of Yorkshire-themed reader goody bags!
'The Last Cuckoo', is the second of my books to have been re-born as an audio book!
As an Audible newbie, I'm trying to build up some reviews on there, so if you're an Audible customer, click here to message me, and I'll send you a promo code to have a free listen.
If your're not an Audible subscriber, and you'd like to be, you can enjoy a free trial (and get my book in that) by clicking here.
Either way, you will get my audio book for free, and I would be beyond grateful if that then resulted in you reviewing it on Audible.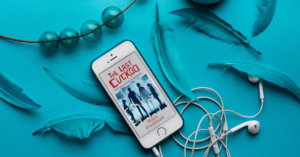 Before I go, let me crow about the picture below!  I was peeved that 'Don't Call Me Mum' was no longer at number one in one of its categories, until I saw which book had knocked it off.
Thank you!  It's YOU that's put them there.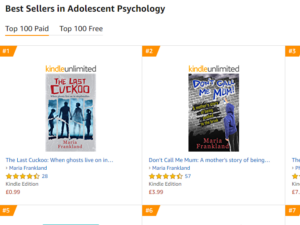 Thank you, as always for being here.  Your support means the world to me and I really enjoy keeping in touch with you.
If you are not already on it, click here to join my keep in touch list so I can keep you posted about special offers and new releases.  I'll also send you a booklet of short stories, 'How to Get Away with Murder.'
Next month, the focus will be on book groups, so I hope you will join me for that.
Take care and keep reading!
With very best wishes,
Maria Frankland