Welcome to May's 'Readerly Ramblings,' the monthly blog I write to keep in touch with my readers – a version of this monthly blog is now also available on my new YouTube channel. (click here to subscribe.)
Thanks for being here and I hope you are keeping safe and well.
From what I can gather, many of us are starting to adjust to a new 'normal' during lockdown.
I, for one, am relieved to no longer feel the need to be glued to social media and the news.
I have also established a routine for regular writing and thankfully, reading again, after a short spell of being unable to concentrate on either! I have just joined Kindle Unlimited and have borrowed my full quota of ten books.
The books I have written are also in Kindle Unlimited for the readers out there who subscribe to it. Click here for my Amazon Author page.
Speaking of subscriptions, I'm also excited to announce that 'The Last Cuckoo; and 'Don't Call Me Mum' are both currently in production with their respective narrators, who are doing an amazing job bringing them to life. Both books will be available through Audible in early June.
I have written this month's blog, mainly to thank you all for the support I have received so far in my new author career.
I am really grateful to my Advance Reader Team (click here if you would like to join) for valuable, constructive feedback on my yet-to-be-released novels.
The writers who attend my creative writing courses (all online now!) have also been wonderful, all buying copies of my work and spreading the work around fellow readers.
Then there are the readers who've picked up my books and invested hours of time in reading the situations and worlds I am presenting. Many have taken the trouble to drop me a line, expressing thoughts on their reading experience.
I am especially grateful to the readers who have gone one step further and left a review on Amazon.
Reviews are the lifeblood of any author's business and I know that as a reader, a buying decision can largely depend on the quality of reviews that are left – the number of stars and a positive comment, even just a line or two, go such a long way.
I also welcome comments offering constructive criticism as this is how we writers grow. The one sort of review I do struggle to understand is an unkind and heavily negative one.
I received one of these about 'The Last Cuckoo' on Amazon a few weeks ago, which left me feeling very disheartened!
However I soon bounced back from it thanks to the growing group of readers that I have heard from since, contradicting the opinion expressed and realised that the book has far more positive reviews!
So, do you know how important you are?
Without readers, a writer can only thrive in writing as a pastime.
I, like many other writers want to put something out into the world to entertain, move and provoke thought and reaction, and hope to leave a body of work that will survive me.
Without you readers, this could never be possible.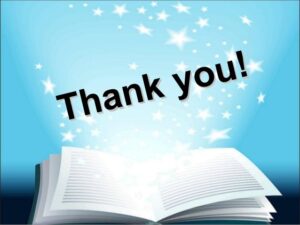 I am just about to release my third novel, 'The Man Behind Closed Doors.' (click here if you would like to preorder a copy!)
I will be holding an on-line launch on Facebook on Wednesday 3rd June at 7pm. I would love it if you could join me (with a glass of something fizzy!) to help me celebrate its release.
I have put together a 'reader goody bag' and everyone who joins me will be entered into a prize draw to win it.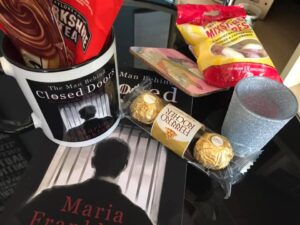 Take care everyone – don't forget to drop into the comments to say hello or even better, drop me a line directly.
I love to hear from my readers and will always reply to every message.
With best wishes,
Maria