Welcome to May's Writerly Witterings, the blog I write to inspire and motivate other writers. A version of this monthly blog is now also available on my YouTube channel.
Speaking of my new channel, I am busy recording 'Write a Novella in 30 Days,' which is now available. Click here to subscribe and begin for free. You can do this anytime and take as long as you want over it!
I hope everyone is keeping safe and well. Lockdown seems to have become the new normal for now with many of us having fallen into a new routine.
Here's mine:
8-9              Wake and do write poetry/make notes.
10-11          Yoga/meditation.
11-12          Breakfast then listen to the uploads of 'Don't Call Me Mum' and 'The Last Cuckoo' that are currently in production with my Audible narrators.
12-1           Work on novel.
1-2              Lunch/learning (currently Bookbrush to produce amazing Facebook ads.)
2-4              More work on novel and work on my forthcoming how-to books for writers.
4-5              Bike ride or walk.
5-6              Paint the house (am currently onto my little office!)
6-8              Online course preparation, reply to emails, marketing.
8-9              Housework, dinner.
I'm always curious to hear how other writers are spending their days as well – let me know in the comments box below!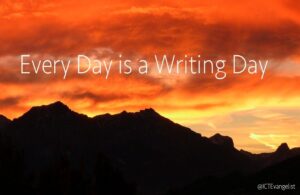 Developing a 'thick skin' as a writer
This month, I would like to talk about 'developing a thick skin as a writer.'
Many of the writers who have undertaken my writing courses are in the process of gaining feedback on their writing or approaching literary agents and/or publishers.
Our writing is hugely personal and precious to us and it takes courage to begin to allow other eyes to appraise it.
I always advise other writers not to invite anyone else to look at your work until you have got it to the most polished place you can yourself first. That way, you won't waste a valuable feedback opportunity receiving comments on things you could identify and improve for yourself.
Here is a list of where your feedback comments may come from:
Writing buddies or writing groups (I highly recommend this, as it benefits both parties. As writers we learn so much from critiquing the work of another writer)
A writing course where ongoing feedback is offered by the tutor, usually verbally, or on short extracts.
Friends and family (although sometimes they won't have the heart to tell you if something isn't working and will assure you that your writing is nothing but wonderful!)
A 'paid for' editorial/appraisal service. I have an experienced writing friend who offers this, if anyone requires it. Click here for her website.
A literary agent or publisher – although usually, they will not offer any, or very limited, comment unless they decide to work with you.
Your readers – often through messages or in the form of a review.
The process of waiting for the opinion of others is a nerve-wracking one, given the time (not to mention blood, sweat and tears!) that we put into our writing.
Of course, we love our writing craft but still, anyone who produces anything in any industry wants to be told that they've done a good job or to be given constructive criticism 'gently.'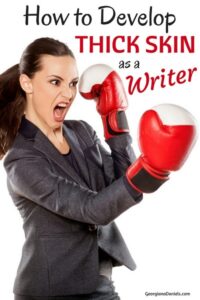 It strikes me that as writers, we really do put ourselves in the 'firing line' for our work to be taken apart or rejected which is why it is so important to develop the skin of a rhino early on. Here's how we can do that:
We MUST keep believing in our work AND our own writing talent at all stages of each piece of work we put out into the world.
In doing so, our confidence will be increased with a regular writing practice and the knowledge that we are constantly honing our craft.
We must remember that any responses we receive from anyone is subjective.
We should bear in mind that everyone is entitled to express an opinion!
But in saying that, we can't possibly please every reader with our offerings.
Early last month, I received an AWFUL review for 'The Last Cuckoo,' and stewed over it for days! Which is why I have decided to warn you all, my fellow writing friends, that we can't let this get to us.
The industry we are in is competitive enough and we have to hang onto our self confidence and place our focus on the constructive comments and the positive reviews. That's not to say that we can't learn from the negative as well, of course.
Why do we listen more to the negative than the positive and allow it to affect our 'writing esteem?' Is it just human nature? Have you ever experienced criticism over your writing that has left you upset and unmotivated? I would love to hear the experiences of other writers.
On a lighter note, I am preparing for the launch of 'The Man Behind Closed Doors' on June 3 at 7pm which I will host on my Facebook page.
I would love it if you joined me with a glass of something fizzy to help me celebrate. I have prepared a goody bag (below) that everyone who comes along will have a chance to win.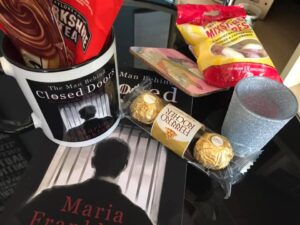 It's great to be part of this wonderful, supportive writing community – thank you for being here and stay safe!
With best wishes, Maria
PS I am now offering a manageable twelve month instalment plan for my year-long distance learning writing courses (novel, life story, poetry collection and short story collection.) Follow this link if you would like more information.