Fall in Love With your Writing Self this Valentine's Day!
Did you know that 97% of writers do not complete their writing projects?
Hi there! Sorry to start this blog post with such a depressing statistic but I soooooo do not want you to be one of them!
According to a recent study of writers,  97 out of 100 stories are languishing in drawers and on hard drives. All they probably needed was some TLC to bring them to completion. Then some more TLC to make them publication ready.  So fundamentally, the depressing statistic boils down to a lack of love.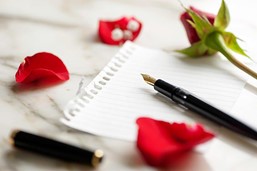 Whilst the love might be there initially, it quickly wanes when the extended effort and time is needed.  Not to mention crises of confidence and life getting in the way.  I have been there!
Don't be one of the 97%  Whatever your writing project, I can support you all the way to completion.  More info about this at the end of this blog post, or click here if you need to know now...
Imagine you have earmarked a ninety minute block to work on your writing. 
You open up the document on your computer and settle down to continue writing.  But so many days have elapsed already that you've lost the enthusiasm for what you started.  So you begin reading through what you've written but really aren't feeling the love for certain words. Some mistakes show themselves, so you start editing what you've done.  Then the doorbell goes and you get side tracked for half an hour. Perhaps you will get chance to return to your writing later.
Next, your husband/daughter/dog/neighbour places some request on you and you think to yourself how self indulgent it might seem to take an hour or two to yourself to get on with your writing. Who is going to want to read it anyway??
It boils down to love… loving the process of writing.  Loving what you are creating. Loving yourself as a writer.
And like any kind of relationship, it requires commitment, faith in yourself, trust that you will see it through and time  spent in its company.
This is something that many of the writers who have taken my courses over the years struggle with. You need that true love in who you are as a writer and the words you are producing.
By the end of this blog post, you will be lovingly proud of your work – and yourself… you can do it! Writing is something we only ever get better at.
So, notebooks and pens at the ready, below are some questions to flip that 'loving your writing self' switch…
What do you love most about the process of writing?
Choose the best thing you have ever written – the piece you are most proud of.
Describe your writing dream – the definition of the success you want. (e.g. mass market success, holding a book in your hands, leaving something of yourself behind.)
If something is getting in the way of that, what is it, and what baby steps could you take to overcome it? (e.g. joining a writing group, taking a course.)
As a writer, what are you best at? (e.g. setting, atmosphere, dialogue, humour, emotion.)
Who is your favourite character, author and book?
What unique aspects can you bring to your writing in terms of your individual writing voice and experiences?
Where is your favourite place to write – can you improve it? What is your favourite time to write – can you ringfence it?
Write yourself an affirmation. (I can rise to any writing challenge, or I write amazing dialogue.)
Bring to mind the writing project you would love to work on next,.
I would love to hear your responses to the questions you have found relevant to where you are in your writing journey, so post them into the comments!
Remember, don't be one of the 97%
Whatever your writing project, I can support you all the way to completion.  Request a free first session to find out more, saying which free first session you would like to try with absolutely no obligation.
Enjoy the rest of your writing month - at least the days are lengthening and the daffodils are in sight at last. Let's hope that an easing of the pandemic is coming into sight as well.
Thank you for your interest in Writerly Witterings. I release a blog post on the 8th of each month so I'll see you next time
Bye for now.
With very best wishes,
Maria
PS: This blog post is also available as a YouTube video.
GET A FREE BOOK!
Click below to join my 'keep in touch' list and receive your FREE copy of 'The 7 S.E.C.R.E.T.S. to Achieving your Writing Dreams.