Happy New Year – although the time since New Year's Day feels much longer than it actually has been!
With so much going on around us, I feel immensely lucky not only to be able to immerse myself in writing my novels, but also to be able to provide some distraction to you as a fellow writer.
As always, this month's Writerly Witterings is also available as a YouTube video, should you wish to be ironing, walking the dog as you listen to January's offering.
As a recap, last month, I invited you to celebrate what you achieved in 2020, and was blown away by the response to that blog post.  I had so many emails informing me that in spite of what you were up against last year, that you had managed to achieve so much. Here is some of what you told me about:
"This is the year I have finally started writing my novel."
"I have got myself onto Facebook and have even set up an author page."
"I did the summer writing sessions with you and the Write a Novella course. As a result of the latter I've written 20,000+ words of a Sci-fi novella. The chapter and scene plan is also in place for the rest."
"I have completed my first draft!"
"It is a huge achievement to have completed nine pieces of writing."
And there were many more. Well done!
We must now look forward, which is why I want to use this January's Writerly Witterings to look forward to 2021 and consider what you can achieve in your writing. In the UK, we are currently in lockdown again, but this time can be used constructively.
Beyond that, there will be writing festivals, workshops and the chance to again eavesdrop on conversations in coffee shops and take note of interesting looking characters whilst out and about.  Before you know it, you will be able to fill up your 'ideas to write' notebook again.
So let's get looking forward.  I'll tell you my goals, then you can tell me yours…
In 2021, I will:
Continue to write three blog posts each month and record them as videos on YouTube - Writerly Witterings, Readerly Ramblings and Writing to Help Yourself.
Offer a free writing course on YouTube during every month in 2021. You will have NO excuse for writer's block!
Release my how-to books for writers. In the absence of face-to-face courses, I have transferred my classroom teaching into book form, with an accompanying workbook.  Write Your Life Story in a Year and Write a Novel in a Year are already out, but there is more to come!
Release four domestic thrillers. And keep going with the first draft of the novel I am currently working on.
Complete my poetry collection, Hot Stuff: The Poetry of the Menopause. 2020 has been a year when I have struggled to find any focus or motivation with my poetry and I plan to address that.
Read as much as humanly possible. I read every day but somehow, reading time ends up squashed into the last half hour of the day when sometimes I am too tired.  Reading is one of the most essential elements of being a writer.
 Here are some questions that might focus your ideas on what you want to achieve:
What writing ideas have you had? Is there something you are burning to make the time for?
What writing projects have you begun? Is there a novel you have outlined, a short story you have written the opening for, or a poetry collection you are yearning to put together?
Have you a large writing project you have filed away, but know you should unearth and look at with fresh eyes?
Have you got an almost completed project that is just 'sat there' because you are lacking in confidence to get it into the world. Could you get a fellow writer to look at it, or gulp – send it to a literary agent or prospective publisher?
Have you lots of smaller projects waiting in a file on your computer that would benefit from a bit of spit and polish? Are you interested in making a monthly promise to yourself?  You could make a commitment to perfect one piece each month, with a view to submitting to a writing competition or inclusion in an anthology. (This is a great way of building your writing CV.)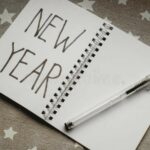 If you could do with a little help with the 'spit and polish,' drop a line to maria@mariafrankland.co.uk and I will send you my editing help sheet.
I would love to hear your goals for 2021, so either include them in the email, or drop them into the comments below so that everyone else can see them too. Writing down what you plan to achieve is the number one way of making it happen. Also,  communicating your goals, dreams and aims to other people increases that power.
For those of you whose goal is to write a novel, click below for details of my brand new book, out 6th January that will support you with this.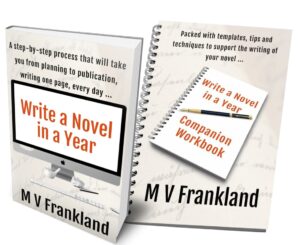 Whilst I am on the subject of books, I have another freebie to offer you: Writing Inspirations – For all Seasons and Reasons.  Click below for a free copy which will ensure that you are never without a writing idea.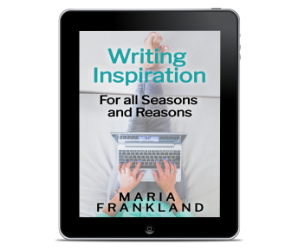 I am also offering a free mini writing course from 10th January, 'The 12 Days of Winter Writing.'  Click here to subscribe to my YouTube channel in order to be notified of day one – there will be instructions in the day one video about how to join the Facebook group.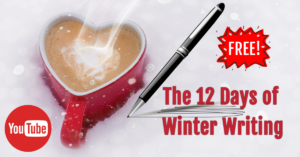 We must hang on to the fact that with the vaccine, we do have light at the end of the tunnel. (Sorry for sounding so cliched – something I go to great lengths to advise against in all my creative writing courses.)
Whilst we wait for this light, this month's 'Writing to Help Yourself,' my other regular blog series, explores how to use writing to help if you are feeling low, and offers some more writing prompts.
If you have been following me for a while, you will know that my ethos is to motivate, inspire and support other writers.  This is more important to me at this time than it ever has been, and I would like to say a massive thank you for being part of my writing community and for choosing me to support you.
I love to hear how you are getting on - hearing from other writers is one of the best parts of my work, so feel free to post into the comments below or drop me a line.
Once again, Happy New Writing Year and let's keep looking forwards.
With best wishes,
Maria Frankland
If you are not already on my 'keep in touch' list, click here to join, and I will send you a free book, 'The 7 S.E.C.R.E.T.S. to Achieving your Writing Dreams.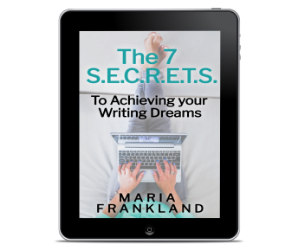 Join my Patreon community! You get to fire all your writing-related questions at me and I answer them in a monthly recorded Q&A.
It's good value (I'm told!) The writers that are currently part of it contribute £3-£5 per month and can choose a free book after 6 months and get access to writing help sheets.