Hello from Yorkshire!
Hi, I'm Maria Frankland, a domestic thriller author based in the lovely market town of Otley, in Yorkshire, where I live with my husband Michael, son Matthew and sproodle Molly. (All the M's!  And just in case you're wondering what a sproodle is, it's a Springer Spaniel/Poodle!)
I'm no stranger to turbulent times, which have provided lots of the raw material for my writing. The domestic thrillers I write shine a light into the darkness that can exist within family relationships.  I'm told by many of my readers that once they begin my books, they can't put them down and are often reading into the early hours - music to any author's ears!
According to published statistics, a known person perpetrates the majority of all murders. It intrigues me that someone can be most at risk from a person who is supposed to love them. And this is what I explore from the safety of my fiction!
As I often say, we thriller writers are amongst the nicest people you could meet, as we pour all our darkness into our writing. It's those romance writers you've got to watch...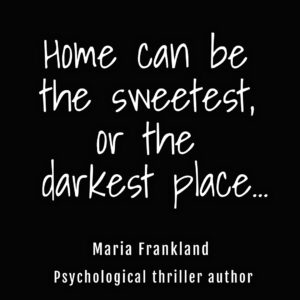 Thanks so much for your interest in my work - my books are available in eBook, paperback and hardback on Amazon.
 They are also available to read for free in Kindle Unlimited. (Scroll to the bottom of the page if you'd like to join Kindle Unlimited - it's awesome!)
My books are available in audio book format through Audible.   (I have a limited amount of Audible promotional codes - available on request if you'd like to drop me a line through the contact page.)
Happy reading - and I'd LOVE to know your thoughts on whichever book you choose. Without readers, an author is nothing and hearing from you is the very best part of my job!
Happy Reading!
With very best wishes, Maria Frankland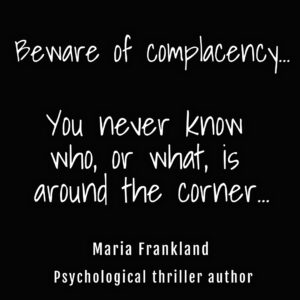 All my books are included in the Kindle Unlimited Programme. Click below to receive their current offer and start reading.
I am a participant in the Amazon Services LLC Associates Program, and earn a commission from qualifying purchases.
Click below to watch a replay of the book launch for my latest psychological thriller - Emergence