The Journey from Idea to Reader
Have you ever wondered about the thrilling journey from idea to reader?  Wonder no more as I lift the lid, well book cover, on what I do and how I do it.
Welcome to June's Readerly Ramblings – make sure you read to the end as I've got two very exciting things to tell you about.
Can you believe we're now halfway through 2022?  Here's the million dollar question – how many books have you read so far this year?  Drop into the comments to let me know.  I think I've read twenty six if we count non-fiction, as I tend to get through a book every week.
I hope one of the books you've read is my latest psychological thriller, In His Shadow.  This dark story about gaslighting has certainly been causing some heckles to rise, according to the reviews!  I was at a writing conference last weekend and got chatting to the wife of a fellow author over lunch.  She wanted to download one of my books to read whilst he returned to the afternoon section of the conference.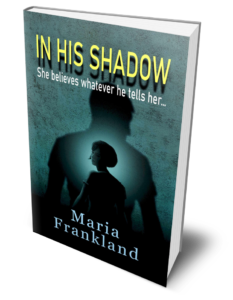 When I came out for a cuppa, she looked at me, shaking her head, saying, "I don't know which character I'm more annoyed with right now." I laughed as this is what many of the reviews are saying – and whilst we're on the subject of reviews, I'd love to know what you thought of In His Shadow if you've read it.  Reviews are the lifeblood of an author's business and I'm grateful for each and every one of them.
The Journey from Idea to Reader in 10 steps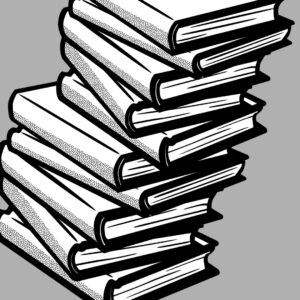 The Lightening Bolt
I have the opposite of writer's block.  I get ideas all the time and some of them needle and needle at me until I'm forced to write them down.  Some shout at me to the point where they demand a title, and for it to be written onto my schedule board.
The Cunning Plan
This is the really fun bit as I always start with my characters.  I give myself some space, usually by going for a walk, or swimming, or even ironing, and the characters who want to be involved generally introduce themselves to me.  It's my job to capture them before they get away.  So before I bring them to the page, I know who they are, what they look like, and where they come from.  I know their greatest fears, their deepest desires and what makes them tick.  Lots of my invention doesn't make it into the book but that's fine.  As long as I know them well before I introduce them to you.
The Discovery Draft
The most satisfying phase where the story flows.  I write without paying too much attention to things like grammar and punctuation – I just let the characters do their thing and the plot unfold.  Some days, it's a joy, some days it's like pulling teeth.  I aim for 2000 words a day, then in my next sitting, I improve the previous 2000 words which re-centres me in the story and carry on.  This phase normally lasts at least a couple of months.
Printing and 'Performing'
I can't believe I've conveyed this phase in two little words as it involves me printing out the entire manuscript, which is a very accomplished feeling, until I get my red pen out and return to the story wearing my editor's hat.  I tend to 'underwrite' at first draft stage, so my manuscript often grows by about 10,000 words here.  Then after I've sorted the computer draft out, I read it all aloud, really getting into the character's voices.  This really helps me, particularly with the authenticity of the dialogue between characters.  My son thinks I'm mad when he passes my office.
My Esteemed First Reader
The scary bit.  My husband Michael is both my greatest fan and biggest critic!  If something's rubbish, he won't sugar coat it!  Sometimes I hear him laughing to himself and I'll say – "what's funny – you're reading a psychological thriller?" It will turn out that he's found what he calls a Maria-ism.  For example, I recently used the phrase 'bald part' when meaning 'ball park' figure, or I'll do things like use the same phrase or word three or four times in a paragraph – my favourite is 'a bit.'
The Sort Out
By the time I get my story back, it's gone cold in my creator's brain.  It's time to read it like a reader would, whilst taking Michael's feedback into account.  At this point I know it's really going to happen and can put it up for pre-order on Amazon AND send my cover designer Darran Holmes a cover brief. Exciting!
Turning it into a Book
So now, and I'm making this sound so easy, I feed my book through some software called Pro Writing Aid which highlights things like repetition and grammar issues, then I begin formatting it using more software, into a book.  I also get the cover back from Darran.  I'm nearly at the point where I'm going to hold the book in my hands.
My Advance Reader Team
My team are a wonderful group of readers – in fact, some of them have become friends, who are gathered together in a Facebook group, and opt in to which of my advance novels they want to receive.  They comment on the story and are often very eagle eyed in the spotting of pesky enemies, aka typos. After they've been over it, I order a final proof copy.
The Proofread
There's no feeling like holding a book you've written and created in your hands.  It's both exciting and nerve-racking as it's only a matter of time before it reaches the most important person of them all – YOU!  Again, my awesome husband helps with the proofread; we each go through five chapters at a time with a fine-tooth comb.
Over to You!
This is the true completion of a story.  When it ceases to be mine and becomes yours to make of it what you will.  It's wonderful to know that the characters and their story that first came alive in my head, are now coming alive in yours.  Whilst I wait with bated breath for those early reviews to come in…
Special Offer
And now, as promised, let me tell you about my latest special offer, this time it's for Hit and Run – the book which most worried my husband as he's a keen cyclist!  Whilst he was proofreading it, he was asking me where I get my ideas from?!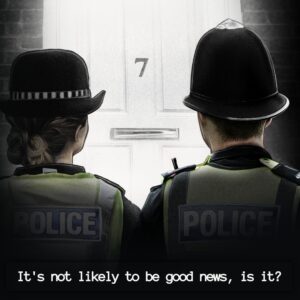 Hit and Run is available in all formats through Amazon but until midnight on June 22nd, the eBook can be downloaded from Amazon for 99p in the UK, 99c in the US.  Beyond that, as with all my books, it will remain free to read if you're in Kindle Unlimited.
And secondly, to celebrate the forthcoming release of Emergence, I'm giving away a set of all three books in The Dark Water trilogy.  You can enter via this link, and the draw is on the 18th July.  So good luck with that one – and if you haven't  read the first two books, The Yorkshire Dipper and Drowned Voices, you'll have plenty there to keep you on the edge of your seat over the summer.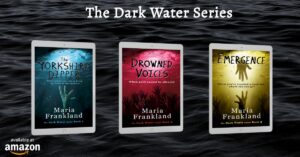 What I'm Reading this Month
I've just started 'The Housemaid' by Frieda McFadden.  I've heard so many good things about this novel and this author so my hopes are high!
What I'm Writing this Month
Now that Frenemy is with my first reader, (my husband Michael!) I'm back in planning mode for my next novel which will be Last Orders, hopefully I'll be ready to start the actual writing within the next few days...
What I'm Editing this Month
Feedback is coming in thick and fast from my Advance Reader Team for Emergence which is really exciting.  Everyone seems to be enjoying it so I'm really looking forward to getting it out there and completing the Dark Water Trilogy.
Quote of the Month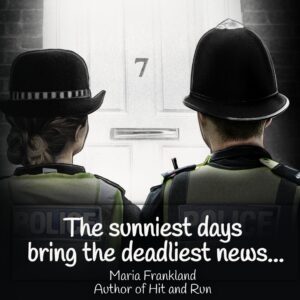 Thanks so much for joining me for Readerly Ramblings this month.  Don't forget to drop into the comments to say hello and tell me what you're currently reading, especially if it's a psychological thriller – I love to get recommendations.
All that's left to say, is happy reading and until next time, bye for now.
With best wishes, Maria
Free Short Stories!
If you love my books and would like to support me, visit buymeacoffee.com/mariafrankland.  For everyone who buys me a coffee in 2022, I'll send you a free eBook of a collection of short stories I'm currently working on.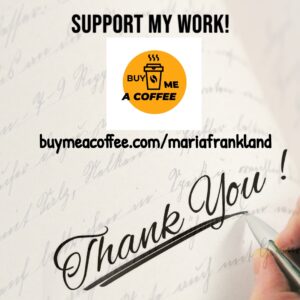 Kindle Unlimited
All my books are included in the Kindle Unlimited Programme. Click below to receive their current offer and start reading.
I am a participant in the Amazon Services LLC Associates Program, and earn a commission from qualifying purchases.