Welcome to Readerly Ramblings for October
Hi there!
My focus for this month is 'Don't Call me Mum,' a memoir I initially wrote in 2010 and was first published in 2012.
It was edited and republished at the end of 2019 and this blog post celebrates the book as it passes three hundred reviews on Amazon UK and all the wonderful comments I've had from readers.
'Don't Call me Mum,' the first book I ever wrote, is autobiographical, and a story I had to get out of my system before I could embark on writing my subsequent domestic thrillers.
Though some say that it reads more like a novel than an autobiography…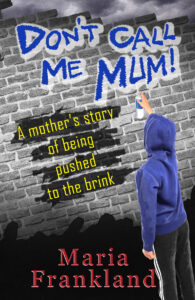 "Within minutes of waking, Tom would pelt into my room and demand the replenishment of his 'bot-bot.' I had started to give him blackcurrant instead of orange. Then he established a new routine.

The first time it occurred, I had laid half asleep, listening to a scuffling in the kitchen. I was not awake enough to act upon it. But after an almighty crash, I flew in to investigate. Flinging open the door, the sight before me made me gasp.

Covered in cat food and smeared in margarine, Tom sprawled, cross-legged, in a heap of tipped-out Persil. (I had finally been able to afford a washing machine!) The kitchen looked as though it had been burgled. In a sense, I suppose, it had. All six yogurts had been devoured and the cheese block gnawed at. Most of the fridge's contents lay strewn across the floor. A cup of tea was not an option as the carton of milk had been emptied everywhere.

This became a regular occurrence, so within days, I fitted fridge and cupboard locks, also ensuring everything in the kitchen was out of Tom's reach.

The morning after the locks had been installed; another jolt awaited me upon awakening..."
The Idea
I knew my son was hyperactive when I was expecting him. It was as though I had a football team inside me, one that preferred to wait until night time for kick off.
I won't talk too much about the events that led me to my decision to begin keeping food, drink and behaviour diaries about 'Tom'* – you can read the book to read the nitty gritty, but what I will say is that these behaviour diaries, kept over several years, formed the chronicle which became the basis for the book.
As the years progressed and our story gathered pace, I lost count of how many people told me that I should write a book about my parenting experiences.
Before I continue, I must mention that the book has been published with my son's blessing and I couldn't be prouder of how he turned his life around since the end point of this book.
*And, although my name is on the cover, all the names inside the book have been changed.
Constructing a Page Turner!
Writing 'Don't Call me Mum was incredibly difficult.'  I started work on it when my son still lived at home in 2010, and completed it whilst heartbroken after he'd moved into supported housing.
Then, when I came to edit it and have it republished in 2019, it was like reliving it all over again. As I was editing, I wondered how we'd survived!
The book is a hefty 100,000 words and consists of short snappy chapters. Extra depth is provided through the inclusion of epistolic devices like letters and emails that were exchanged with a multitude of educational and child development specialists.
Some chapters offer lists or reports, and other chapters only offer a few words, such as, "something must have made him like this. Perhaps he wasn't shown enough love when he was younger."
I never expected 'Don't Call me Mum' to be described as a page turner, but I've been told by many readers that the brevity of the chapters increases the pace of our story and the compulsion to keep reading.
I also have three signed copies of the book to giveaway.  Drop me a line, if you'd like to be included in the draw which I'll do on 24th October 2021.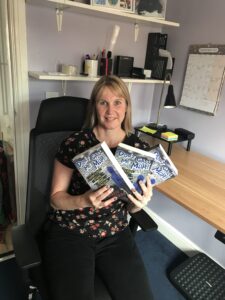 Reviews and Research
Normally in the writing of my domestic thrillers, it is necessary to conduct a certain amount of research before and during the writing process.
However, with this memoir, it was obviously already there for me, in the diaries, letters and reports I had saved and in the memories that were a part of me.  Unleashing it all was tough, but hugely beneficial.
I primarily wrote Don't Call me Mum for two reasons, one for the aforementioned cathartic therapy it offered -  and secondly for other parents who might be suffering in similar circumstances.
I've been delighted with the reviews the book has received and the personal messages I've received, primarily the ones where other mums have let me know that my story, particularly the final outcome, has helped them feel they can go on and also that reading it has helped them to feel less alone.
Hopefully what I've said already will have whet your appetite to read this memoir, but here's the blurb if you'd like to know a little more…
Is it ever acceptable to dislike your own child?
Tom is a longed-for but very difficult baby. Sarah becomes almost maddened with tiredness as he screams all night, every night.
Continuing to need little sleep, he grows into a fearless and destructive toddler. At school he lacks concentration and is endlessly excluded due to his disruptive behaviour.
As Tom gets older, the havoc in their family life escalates, as he becomes out of control in his teenage years.
In an endless quest for support, diagnosis and medication, Sarah consults specialist after so-called specialist, only to be constantly met with indifference and the 'blame the parents' mindset. Outcast, exhausted and judged, she eventually reaches breaking point…
To get your copy of Don't Call me Mum, click below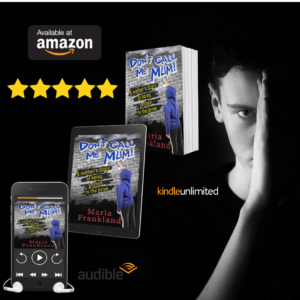 Here's one of my favourite reviews...
"So glad I chose this as my Amazon first read this month, I couldn't put it down. Having shared some of the author's experiences myself, there was points I cried, and some where I'm ashamed to say I laughed (its my coping mechanism to find humour in bad situations) and the epilogue... I won't spoil it, but I'm really glad it was the 2nd edition with the update at the end that I read, because it would have driven me crazy not knowing how things turned out. Off to recommend this book to all my adhd mum friends, who have all experienced the judgement, the desperation for help, and many sleepless night's through their own journeys with a child with behaviour issues." Amazon Reviewer – five stars.
What I am Reading:
Good as Dead by Susan Walter. As always, a domestic thriller. However, I do read lots of non-fiction too.
I was drawn to Good as Dead because it's topic is around a hit and run death, and as you may remember, Hit and Run was the title of my May release this year.
I've only just started it so can't comment too much yet but will say that the opening chapters are intriguing and compelling.
What I am Writing:
In His Shadow: She Believes Whatever he tells her
I've now passed the 70,000 word mark with my novel that's scheduled for release next May.  Draft three is now complete and drafts four and five will probably extend the word count to 80,000 words, which is the length of most of my domestic thriller novels.  I am a writer who tends to 'underwrite' in early drafts.
Then it's off to my first reader (aka my husband Michael) for his esteemed opinion before it goes to the next stage.  This is always a nerve wracking experience – he is very, very honest about what he thinks is good, and works… and vice versa!
What I am Editing:
I'm putting the finishing touches to Last Christmas, a novel scheduled for release on 1st November. You can pre-order it by clicking below.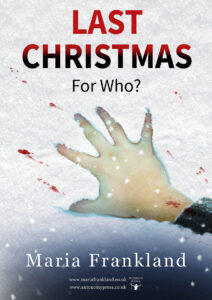 It's been read and enjoyed by my Advance Reader Team so I'm very excited that I'm now about to get it out into the world.  Be warned however, it might have the word 'Christmas' in the title but the story is anything but festive!
Quote of the Month: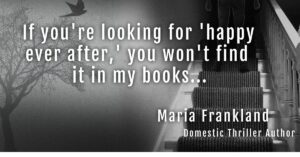 PS: This blog post is also available in video format on YouTube. I post a new blog for my readers on the 18th of every month.
Thanks for being here – and for all your amazing support.  Feel free to say a quick hello in the comments – hearing from my readers always makes my day.
Bye for now,
Maria
GET A FREE E-BOOK!
Click below to download a FREE novella and join my 'keep in touch' list.