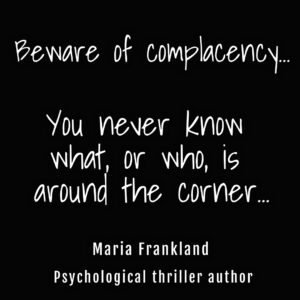 Welcome to February's readerly ramblings – it's great to have you here.  This month, I'm telling the story behind the story of my latest novel, Drowned Voices.
"The families of perpetrators are victims nearly as much as families of the victims themselves." Mark Potts (Drowned Voices)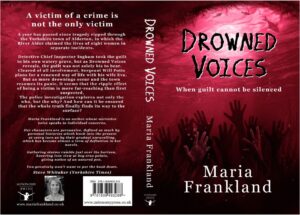 Cover Credit: Darran Holmes Illustrator
Drowned Voices is the sequel to The Yorkshire Dipper, that was originally written as a standalone, but due to popular request from my readers, I wrote this follow up novel.
I'm primarily an author of standalone psychological thrillers, so was astonished when on finishing Drowned Voices, I realised there was 'legs' for a third book.   Emergence, which I'm currently writing, will be released in August of this year and completes The Dark Water Trilogy.
I first came about the idea for The Yorkshire Dipper, as the river which flows through the town centre of my home town is notorious for drownings, particularly of those who have had a few drinks.
One of the perpetrators meets their comeuppance at the end of The Yorkshire Dipper but the other is still 'at large.' Drowned Voices explores the inner thoughts of this person and their impact on those closest to them.
This second novel isn't as much a 'who dunit,' as the reader is privy to information which the characters aren't, but is more of a 'why dunit.'
Being Yorkshire born and bred, I root all my novels here, and the accent and local references are often commented on. I have occasionally set my work in other locations and find it much more challenging!
As you may know, with each novel I release, I give away two Yorkshire-themed goodie bags – one to my Advance Reader Team and one another lucky reader who enters my draw.  You can enter by clicking here: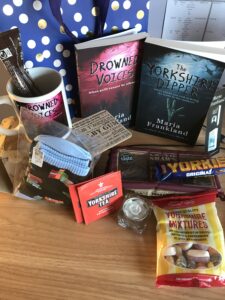 Drowned Voices came relatively fast, as I wrote it straight after checking through the audio version of The Yorkshire Dipper.  This ensured that the characters were still alive within me and that I carried details over correctly.
It took me just over a month, writing 2000 words each day to attain my 60,000 word first draft.  The hardest thing about writing it was that I wanted it to be able to stand alone as a novel, even to a reader who hadn't read the first one.  You'll have to let me know if you think I've accomplished this.
Like its predecessor, it's structured into a story of two halves, this time, the first half being narrated by Will and the second half narrated by Eva.  You will still see lots of Mark, Claire, Alysha and Brenda from the first book.
To get your copy of Drowned Voices, click below: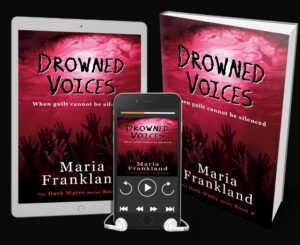 Because I could draw on research from the Yorkshire Dipper and already knew my characters, the research for Drowned Voices wasn't quite so intensive, but what was required would still raise an eyebrow or three…
In someone who hears voices, how loud might they be?
What  financial damages could victims of serious crime receive?
How invasive is psychotherapy?
How wide to the police cordons go around a crime scene?
Is there an upper speed limit for a police chase?
Could a brick thrown through a window injure someone on the other side?
And now, to whet your appetite...
Prologue
I hope my older brother knew what I thought of him. We fished, we got into scrapes, we watched sport, we played pool. What we never did was argue. Ever.
One minute we were walking side by side, the next Dean's life had been stamped out as though someone had slammed their foot on a spider. The might of the car had sent him hurtling over a garden wall, whilst I'd been mown to the ground.
Although I cracked my head on the concrete, I had several lucid moments prior to finally lapsing into unconsciousness. Time enough to glimpse the faces of the vehicle's occupants as they stared at the carnage they'd caused. Long enough to catch snatches of conversation such as 'my career,' 'my reputation,' 'prison,' and finally 'let's get out of here.'
Mum didn't visit me in hospital. She reckoned I'd be home soon enough. Besides, she was too busy grieving for her firstborn son. The one she thought should have survived.
As the subsequent weeks limped over one another, she could barely look at me, let alone speak to me. Until she finally threw me out of the house in a row about money for board. I left home beneath a cloud of guilt-fuelled hatred. And it's pursued me ever since.
The Book's first Amazon Review
I loved that Will, the villain, narrated the first part of the book. His thought processes and justification for his terrifying behaviour made fascinating reading. The second part is narrated by his long suffering wife Eva and this worked brilliantly as we got to know the woman and empathised with her predicament. Maria Frankland does domestic dramas so well and Eva is a classic abused wife, knowing her husband is a monster but terrified to let go.

The end is such a gripping climax and cliff hanger I cannot wait for the third book in this thrilling psychological series.
Charliebeesbooks (Amazon reviewer) five star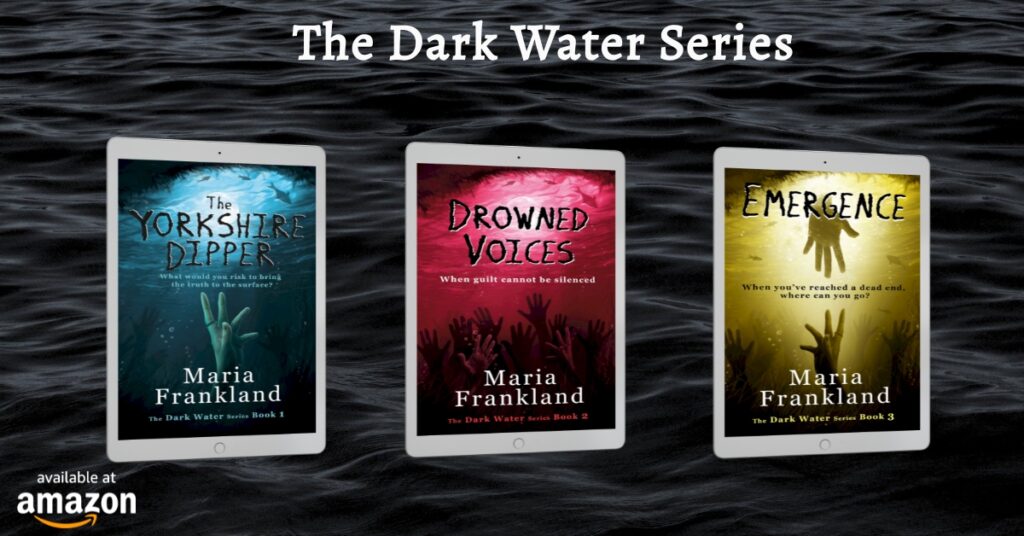 I can definitely confirm that Emergence will conclude this series and I'm now back on to writing stand alones. However, I'm keen to know what you most enjoy as a reader.  Do drop into the comments and let me know whether you are generally drawn towards standalone novels or books in a series.  It's great information for me to have for future reference.
What I am reading
All her Fault by Andrea Marr.  I like books which jump forwards and back through time and display multiple character viewpoints – they make me do some work! (I'd love to hear your thoughts on this too.)  It's early days for me with this book but it's got me so far!
What I am writing
Emergence, of course!  I'm now at the draft four stage which is an exciting place for me to be as it means I have the story in its entirety, it just needs editing before it goes to my first reader. (aka my husband, Michael.)
What I am editing
In His Shadow, due 1st May, is now at the proofreading stage before it goes to my advance reader team in March.  The novel explores the subject of gaslighting within a relationship and I can't wait to share it with you.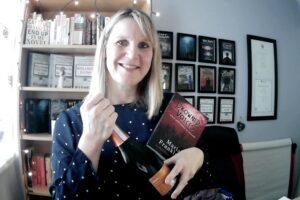 You would make me a very very happy author if you were to consider doing one of the following:
Join my 'keep in touch list' and I'll send you a download link for 'The Brother in Law.'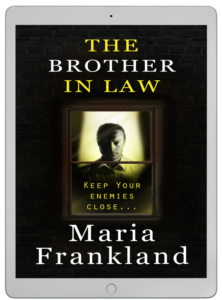 Support me on buymeacoffee.com/mariafrankland and I'll send you a free collection of short stories (eBook) that I'm currently working on at the end of 2022.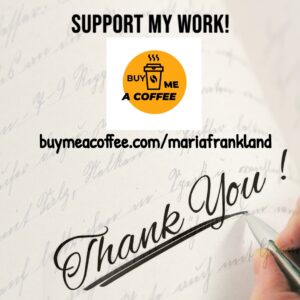 Thanks for being here – see you next month.
Bye for now,
Maria
I post a new blog for my readers on the 4th Monday of every month and this blog is also available as a video.