Hi there!
Welcome to Readerly Ramblings for November
"I open my eyes. The soft snoring of my sister vibrates through the sofa as reality hits me like a sledgehammer. I sit bolt upright and look at the window. The helicopter light has disappeared, and the lighthouse beam has resumed its sole ownership of the darkness. I feel as heavy as a helicopter. It's twenty to five. Still around three hours until daylight. Where is he? Where is he? Where is he?

I stiffen as a door clicks shut, followed by footsteps padding along the hallway. I am certain I can hear someone breathing outside the lounge door. Then, with a creak and a dragging of the carpet pile, it opens." Sacha – Last Christmas
The Idea
Christmas novels are supposed to be happy – right? It's nice to give Christmas stories as gifts. In view of the fact that Amazon have now made hardback books available, I thought about how much I'd like one of my books to be given as a Christmas gift.
So that was my starting point.  The desire to write a Christmas novel.  But given my writing genre of domestic thrillers, it was never going to be festive...
I gave some thought to what might constitute the worst Christmas imaginable.  I started with an unhappy couple who are having problems with fertility and drink issues.  I then decided to throw the in-laws from hell into the mix, along with a terminal illness and an unexplained death.
Yes, like I said – all far from festive but the most enjoyable book for me to write so far.
Constructing a Page Turner!
The page turning quality of this novel comes from the fact that you will care about the viewpoint characters. (The novel is split into three, with each character taking over from where the previous one left off.)
This is a story that pushes family dynamics to the edge and shows the damage that a dysfunctional family can cause.  Light is shone into the darkest corners and no member of this family will be able to hide from you.
There are two or three curveballs which will be thrown at the characters as you read.  And I'll just say that it always amuses me when a reader says in a review something like, it was obvious all along...  I'm the author and even I don't know what's coming until it happens!  It's the most exciting part of being an author with having contact with my readers being a close second!
Reviews and Research
"Maria Frankland has done it again; taken a perfectly normal family situation and turned it into an unputdownable page turner. We all have experience of dysfunctional families, but this one really takes the cake!

How she manages to weave all the threads together without them getting bogged down is a miracle, but she really pulls it off. Another resounding success for the queen of the darkly disturbing!" ⭐⭐⭐⭐⭐

Gill (Amazon Reviewer)
This is my seventh domestic thriller and I'm certainly not short of ideas for seven more – which I have scheduled.  As long as the ideas keep coming – so will the books!
As the author of dark domestic thrillers, I'd be lost without my partner in crime, Google.  Without giving too much away, here are some examples of my jolly searches:
How soon after death is an autopsy done?

Is it possible to tell the difference between a fall or a push on a person's body?

How long could someone last outside in sub zero temperatures?

Does an inquest take place in the same place that death occurred?

When falling from height, does a person's heart give out before they hit the bottom?
There were many more, but I don't only want to whet your appetite here!  And if I haven't got you rushing to get your hands on a copy already, here's the prologue…
Prologue
It's something of an honour to visit a person when they're at the end of their life. When you know you're one of the last people they'll sense at their bedside. Particularly when they're slipping in and out of consciousness.

You've been told they can hear you, but can they? Really? You know you can tell them anything you want, and it will never be repeated. How many people can you say that about? A catholic priest at confession? A GP? A counsellor?

But even those professionals will warn you that they may have to break their code of confidentiality should you pose a risk to life. Your own or someone else's.

But someone on their deathbed? You're safe with them. They can't tell anyone anything.
To get your copy of Last Christmas, click here: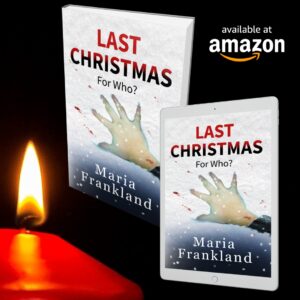 Giveaway
I am also giving away a Christmas-themed goodie bag.  Click on this link to enter. (No purchase necessary.)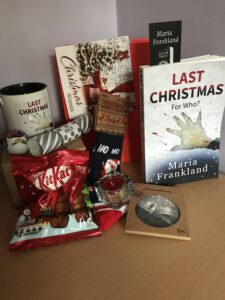 What I am Reading:
The Housemaid by Sarah A Denzil. I was drawn to this writer because she also sets her books in Yorkshire and is a fellow domestic thriller author. The domestic scene in this book is a stately home where a destitute girl has found work whilst she also uncovers secrets from her past. I'm halfway through and am drawn right in.
What I am Writing:
I'm now at the planning stages of the novel that will be my August 2022 release which will form the final part of The Darkwater Series of books with The Yorkshire Dipper and Drowned Voices – so far, I've got a title (Emergence) and I'm in the process of plotting the story.  Within the next week, I'll be starting to write…
What I am Editing:
'Drowned Voices'
The sequel to The Yorkshire Dipper is now at the final proofreading stage before my Advance Reader Team get to give it the once over.
Drowned Voices would never existed without so many readers saying this needs a sequel after reading The Yorkshire Dipper.
I, the writer of standalone novels only, have surprised myself by realising that there will actually be a third book to follow this sequel as mentioned above.
Quote of the Month:
Another of my own quotes this month: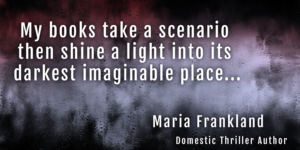 PS: This blog post is also available in video format on YouTube. I post a new blog for my readers on the 18th of every month.
Oh and speaking of videos, I've recently joined TikTok so if you're on there, click here to reach my profile, follow me, and I'll follow you back!
Thanks so much for your interest in my new book and I'll see you next month. Happy reading!
Bye for now,
Maria
GET YOUR FREE E-BOOK!
Click below to join my 'keep in touch' list and receive your FREE novella.