Hi there!
Welcome to Readerly Ramblings for March
"I'm still wearing my wedding ring.  I think the time has come to remove it. I've lived a lie for long enough."
Ed Huntington (From Left Hanging.)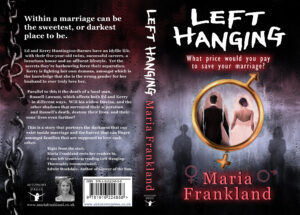 Cover Credit: Darran Holmes
The Idea
The idea for Left Hanging came from a conversation I had a year or two ago when someone famous 'came out' after many years of marriage.
It got me thinking about what this must be like for the spouse left behind.  There would be little they could do to save their marriage as they have known it.
Then, being a writer of domestic thrillers, my thoughts turned to possible revenge ideas a spouse may harbour.  I will say no more…
What I will say though, was that this was a story that went in all kinds of directions I had not planned on - the characters literally took on lives of their own which was very exciting! Some of the chapters really surprised me and enabled me to show the darker side of not just family but human relationships.
Constructing a Page Turner!
I began writing this novel in January 2020, right before the world changed.  Throughout 2020, I did get an opportunity to get into some of the settings I was depicting, such as Golden Acre Park in Leeds, the gym and Café Nero.
For other places such as Betty's Tea Rooms, The Parkway Hotel and the Black Swan Hotel, I had to write from memory. Writing inside Betty's is a very enjoyable way to write!
I can't believe how easily this novel emerged.  Throughout January, February and March, I worked in snatched blocks of time, averaging a word count of 1000 words a day.
Some of the conversations between women I portrayed were borne out of me being an eavesdropping nosy writer!  You will know what I am talking about when you get there in the story!
By the time lockdown happened at the end of March, luckily I had a solid first draft that just required lots of editing.  I say luckily, as due to the pandemic, I lost my creative energy for about a month, but editing, I could still manage! Just about.  I think lots of us lost that ability to focus when Covid first hit.
How the book has been received
Above all, I wanted to deal with the issues within this novel sensitively and I owe a debt of gratitude to my friend and fellow author Edwin Stockdale PhD, who thoroughly checked it over and has endorsed the story on the back cover.
I felt this novel was more controversial than some of my writing but have been over the moon by how well it has been received.  At this time of writing it has ninety 4.5 star reviews under its belt.
Being that the issues could be seen as contentious, I am delighted to hear that the novel is coming up as a suggested novel amongst book discussion groups, and like all my books, I offer suggested reading questions at the back of each one.
Research
Being the writer of psychological thrillers requires accurate portrayal around aspects such as family law and police procedure.  But this novel needed to go a little bit further in terms of research.
I'm so grateful for the internet and as I conduct my research before and during the writing process, I have to shelve the possibility that my computer history might be under scrutiny somewhere in response to some of the following searches:
Is it possible to buy a ligature with a safety device?
Rapid result for DNA test.
How quick is death by hanging?
Can tyre treads be traced back to vehicle?
Do police usually attend a funeral to watch suspects?
Process of sexual asphyxia.
And there's some far worse searches that were required but to tell you them would give the story away! So all I'm going to give you is the prologue…
Prologue
Russ looks behind to make sure his 'friend' is still following. They tread silently along the thick carpet towards the room he booked that morning.
They only met an hour ago – but it's long enough to be certain about what will soon take place. They've been planning it for over a week. Building tension. Creating anticipation. Russ slides the key card into the lock and smiles as he glances back at his companion again.
The door closes softly behind them. It's the other man's turn to smile as Russell empties the contents of his holdall onto the bed.
To get your copy of Left Hanging, click below: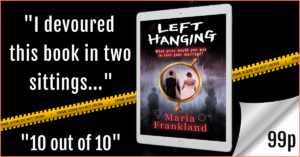 "What an blistering, nerve wracking ending! Didn't see that coming! This is one that will stay with you long after the final chapter ends. BBC, get on it!!!"
"I made the mistake of starting to read it in the evening and got so involved that I woke up in the night and carried on reading for another couple of hours!"
Oh, and did I mention it is only 99p as an eBook throughout March?
What I am Reading:
Should have known Better by A J McDine.  A domestic thriller that I'm already gripped by, even though I have only just started reading it!
What I am Writing:
The Brother in Law: Keep your Enemies Close.
I've just started the third draft of a free novella to whet the appetite of brand new readers on Amazon.
What I am Editing:
The Hen Party: First there were ten. Then there were nine.
I am currently responding to comments and suggestions from my first reader, (my husband!) and starting to format the book in order to order a proof copy. The release is planned for August 2021.
Quote of the Month:
From none other than Mr Dickens.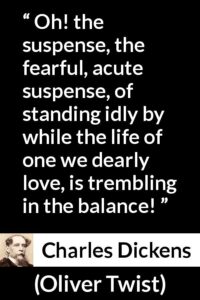 Thanks for being here – see you next month.
Bye for now,
Maria
PS: This blog post is also available in video format on YouTube. I post a new blog for my readers on the 18th of every month.
GET YOUR FREE E-BOOK!
Click below to join my 'keep in touch' list and receive your FREE novella.