Welcome to Readerly Ramblings, the monthly blog I write to keep in touch with you, my reader.
This blog is also available as a video on my YouTube channel.  Click below if you've rather watch and listen to this post.

An author is nothing without their readers and there's nothing more that makes my day than a message to say hello, either in the comments below, through social media or by email.
The reviews on all my books are increasing, so if you're one of the readers who has contributed to this then I'm truly grateful! You being part of my growing reading community is so important to me, particularly at this time of the second UK lockdown.
I hope you're staying well and safe and have a big 'to read' pile stacked up for these chillier days and darker nights.
I've probably got too many books in progress right now.  A friend has lent me a copy of 'Where the Crawdads Sing.'  I'm listening to Davina McCall's autobiography via Audible and I've also got Stephen King's 'On Writing' on the go!
Then on my Kindle e-reader, which I read late at night with either a glass of wine or chamomile tea, I've got 'Here to Stay', a domestic thriller in progress.  I love writing domestic thrillers, and I love reading them as well!
And, just for good measure, I'm reading 'Ffens Tales,' a fantasy novel written by JA Browne.  I don't normally read fantasy or books aimed at a younger audience but having read two of her other books, this free one was demanding my attention. Link here if you're interested.
So I guess you could say I'm 'book-greedy!'  The time of day and the mood I'm in inform which of my books-on-the-go I'll continue to read.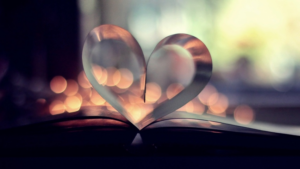 Would you describe yourself as 'book-greedy' too?  Can you beat my amount of books in progress?
I love having a choice of formats. If I'm reading poetry or literary fiction, I prefer a print book.  It's nice to feel as though you 'own' and can revisit it. And we readers love to have our books collected on our shelves, don't we? I must admit, it's nice to hold a physical book – I even like the smell of them.  Does that make me weird?  I used to get such a buzz, as a child, taking a pile of books to the library counter, watching them be stamped one by one and being able to take them all home.
I thought I'd never be converted to the Kindle way of reading, but I get through so many domestic thrillers, it makes sense to read them as e-books.  Not only are they cheaper, but they are portable.  I've lost count of how many times I've been stuck in a queue, a waiting room or on a long journey, and I can just whip out the latest thriller on my phone.
This year has brought out the insomniac in me, so I can read in the night without disturbing my other half! I am in Kindle Unlimited which is a gift to us readers; for just £7.99 a month, we can take out as many books as we can consume.  And there's some really good domestic thrillers in Kindle Unlimited – including mine!!  It felt only natural that I should place my own books in the programme.
I was a latecomer to audio and only took out an Audible subscription, again for a monthly fee of £7.99, a year or so ago.  I got my first listen free and really enjoy being a member.  I can listen when walking, ironing or doing the housework and it's a great experience to hear books being brought to life.
Although I mainly listen to non-fiction and autobiographies through Audible, I have listened to fiction too and it's an amazing experience to hear a story come alive.  Audio makes for a really active reading experience, where vivid images of the setting and the characters are created in the mind.  I'd rather listen to an audio book than watch a TV drama or a film.
My own novels have been narrated for Audible.  I've worked with some fabulous narrators and it's a surreal experience  to hear my stories.  I think audio has yet to fully take off, but it will.
I would like to see Audible go the same way as Kindle Unlimited, whereby subscribers can have an 'all you can eat' subscription.  We authors could be paid for 'listened to' minutes, similar to Kindle Unlimited, where we're paid for page reads – that's when audio will really take off.
All of my books are available in all three formats.  Each month, I reduce one of my e-books to 99p for a week (in the UK and US) and by joining my 'keep in touch list,' I can let you know the days when it will be reduced.  Joining my list will also mean you will receive a free copy of my short story collection, 'How to Get Away with Murder.'
If you're already an Audible subscriber and would like a free UK or US promotional code to listen to one of my novels in audio, click here and let me know from the picture below which one you would like. (Left Hanging is coming soon.)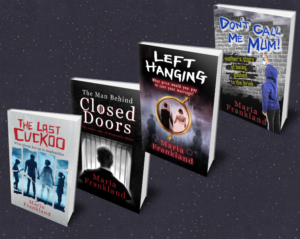 If you are not an Audible subscriber but would like to be, you can have a free listen as a new subscriber.
I'd love to hear what your reading preferences are, and whether you've got any strange fetishes for smelling books, like I confessed to!! Thanks, as always, for being here, and for your support and interest in my work.
I'll be back next month, gosh it will be nearly Christmas by then, to talk about the gift of story.  I hope you'll join me for that.
Keep well and safe.  Keep reading and keep in touch.
With very best wishes
Maria Frankland