Hello and welcome to my third monthly blog post which I write to keep in touch with my readers.
Thanks to those of you who responded to my last post which involved you considering your own 'living bucket lists.'  Making plans is a great way to start the year ahead.
I'll start by wishing everyone a happy new year and decade, although the festivities seem like a long time ago already!
2020 has got off to a very busy start indeed for me. I'm planning my wedding which takes place in five weeks and have just released the second edition of 'Don't Call Me Mum: a mother's story of being pushed to the brink' (Autonomy Press.)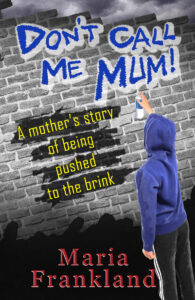 'Don't Call Me Mum' (Autonomy Press) Cover Credit: Darran Holmes - Illustrator
I initially wrote this book in 2010 and it was first published in 2012. The reviews I've had on it have been so encouraging, many readers saying they couldn't put it down and suggesting that it's so dramatic, that it would work as a 'novel' in its own right, as well as a memoir.
I'm always in awe of other readers on Instagram who start their month with a photograph of the books they intend to read in that month. I read as much as I can, being that reading is an essential part of any author's craft, however, I sometimes find it difficult to take off my 'writing head,' stop analysing technique and just enjoy the book for its own sake!
The books on my list this month are:
Seven Days (Alex Lake)
The Ex Girlfriend (Nicola Moriarty) and
My Lovely Wife (Samantha Downing)
I subscribe to Audible and always have something on the go whilst I'm driving, at the moment, I'm listening to Five Steps to Happy by Ella Dove. It's brilliant. I met Ella, a journalist for the Prima magazine a year ago when she ran a piece about me and my fiancé, Michael. For anyone who didn't see it at the time, I've pasted the article and photograph below. (Since we're approaching Valentine's Day – and our wedding day!)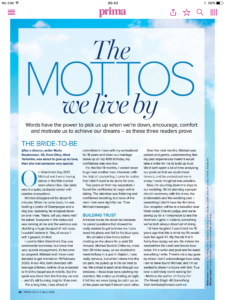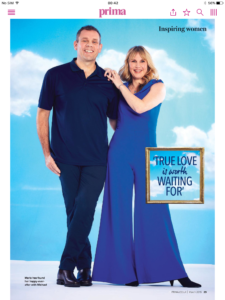 I'd love to hear what you're reading, or planning to read at the moment. Feel free to share in the comments section, or just introduce yourself. I love to 'meet' with people who are taking the time to visit my blog.
If you would like to join my reader 'keep in touch' list to receive special offers and news of new releases, please click here. You will then get a link to download a free collection of short stories, 'How to Get Away with Murder,' and you will go into a prize draw to receive a reader goodie bag when my domestic thriller, 'The Last Cuckoo,' is released on 4th March.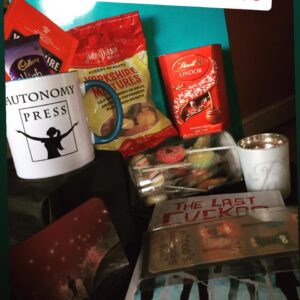 I am so very pleased that this novel is now in the hands of my wonderful Advance Reader Team and so far, the feedback has made me want to jump up and down with excitement. When writing a book, you never know quite how it's going to be received by readers – indeed once a story is with a reader, it ceases to belong to the author anymore and becomes the property of the reader.
I will bring you more information in my February blog about the launch party I am planning and if you are on my keep in touch list, you will be able to download the e-book for a short time for just 99p.
Thank you for being here and for supporting my author career. I've had lots of new readers start to interact with me lately through Facebook, Instagram and Twitter and I'm loving this, along with the whole book release process.
Have a great January.
With best wishes,
Maria (Frankland-to-be!)