Hi there!
Hi, I'm Maria Frankland, a creative writing teacher, author and poet, based in the lovely market town of Otley, in Yorkshire.
From a young age, my dream was to become an author.  It took many years but I'm over the moon that this is now my career.  Now it's my aim to support, motivate and inspire other writers to also achieve this, but in much less time than it took me! To do this, I have poured everything I know into my packed writing courses
Click here for details of my online writing courses.
At the time of writing, I'm giving away writer's goodie bags with every year-long course. (UK only, due to postage costs.)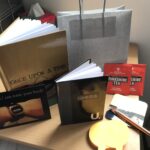 And if you scroll further down on this page, you will see the 'how-to' books for writers I have available. These are distilled versions of my online courses but do exactly what they say on the tin!
So what qualifies me to offer these courses and books?   Well, I have eight successful psychological thrillers already available, with another three on the way, along with the second edition of my memoir, 'Don't Call me Mum,' and two poetry collections.
If you were to ask me how it is possible to achieve success as a writer I would say, keep going, keep writing, keep believing in your voice.  Writing is something we only ever get better at.
No one can write your words, but you.
Polish your work until it shines and never, ever give up. You can achieve all your writing dreams.
With best wishes,
Maria
My how-to books for writers are included in the Kindle Unlimited Programme. Click below to receive their current offer and start reading.
I am a participant in the Amazon Services LLC Associates Program, and earn a commission from qualifying purchases.
Click below for my YouTube Welcome Video - on my channel you can try out my writing challenges and free mini-courses. Don't forget to subscribe!
On my channel you'll also find 'Writerly Witterings,' a monthly video to motivate, inspire and support other writers.  It's also available as a blog, here on my website.  Click here.