Hi there and welcome to June's Writerly Witterings.  This month I'm going to talk about the benefits and challenges of writing by hand versus the computer. This will include the offering of some writing activities prompts. Firstly, here are Ernest Hemingway's thoughts on the matter: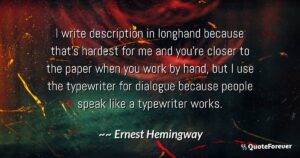 When I first started teaching creative writing back in 2013, I was a staunch advocate of writing by hand at first draft stage.
Here's why:
Writing by hand has a much more creative feel to it. There's a freedom in being able to cross lines out, overwrite and add bits in.  It can be as scruffy as you like but no one else is going to see it.
Following on from above, this creativity minimises the itch to edit whereas when writing straight onto a computer, the processed words have an air of finality about them, and there is more of a need to polish them as they accumulate.
It's completely portable. You don't need wires, electricity or wi-fi access.  You can write literally anywhere at any time.
You get to buy loads of new shiny pens, notebooks, etc.
It cannot be suddenly deleted, wiped or lost. (Unless you lose your notebook!!)
Your handwritten first draft might be worth a fortune one day!
I was a bit of a stickler then for my first couple of years of teaching, and my novel and life story writers were coerced into handwriting a page a day for a year of their books and forbidden to type until they'd got to the end of their first draft.  Some loved it that way, others secretly took to their laptops!
Here's why:
It's much faster! More and more people are able to type fairly quickly nowadays and if the creative juice is really flowing, it's possible to reach speeds of over fifty words a minute.
The portability of today's computers and battery life makes it easier to transport your work in progress around, so you can either work in a more interesting location or in a snatched moment.
As long as you have internet access you have the advantage of lots of tools at your fingertips such as the facility to research anything, the synonyms function for alternative words, an online dictionary, a rhyming dictionary, etc.
The editing stage is easier in terms of being able to move text around, copy, paste, add bits in, print bits out and annotate.
You can back up your work multiple times. At the very least, I have work in progress on my laptop, my memory stick and in the cloud. (I always used to point upwards when I referred to 'the cloud!')
And lastly, if you're asking for a second opinion from a trusted reader, you can send them your work at the touch of a button and they don't need to decipher your scrawl!
As the years have progressed, I've certainly become less prescriptive about whether to handwrite or type, and encourage other writers to try both methods to see what works for them.
Personally, I now type all my first drafts – I'd never have the work output if I wrote everything by hand.  However, with my poetry, I absolutely must handwrite, there's no way I could write a poem straight onto the screen.
I'd love to hear what option you gravitate towards and why, so feel free to drop a line into the comments section below this blog post.
There is, of course, a third option – dictation.  If you'd tried this, with or without success, I'd love to hear from you.  I can't imagine getting dictation working for me as my brain just doesn't work in that way but I'd love to hear your process.  Perhaps that might spur me on to give it another try.  There's no doubt that some writers have great success writing in this way and their output can be colossal.  I've heard that there's far more to do at the editing stage though.
So, as always, let me offer you some writing prompts that support some of the points mentioned above.
We'll start with the difficult one! Using the voice record function in Word or on your mobile form, try dictating a new piece of writing.  For some writing ideas, click here, to download a free booklet full of writing prompts. Perhaps jot some notes before recording your response.  It will be great practice to see how you'd fare with a longer piece.
Try free writing by hand. Close your eyes for one minute – empty your mind and just write.  Don't stop for 5 minutes and don't edit anything.  See what emerges on the page, often some golden nuggets!
Take the word 'midsummer,' and plan a 500 word piece of flash fiction with a beginning, middle and end. Once you have planned this, see how quickly you can type it out.
Create a word bank on the theme of 'the seaside.' Write a poem or piece of poetic prose straight onto the computer. Time yourself and evaluate the ease of process and your satisfaction with the end product.
Contrast the above with creating a word bank on the theme of 'first love.' This time create your piece using paper and pen.
Enjoy the prompts and let me know how you get on.
My latest free course on YouTube, 10 Ways: 10 Writing Days will offer 10 videos on different aspects of writing, along with a daily writing activity.
Here's what we'll be covering:
10 Ways to Generate Ideas
10 Ways to Find More Time to Write
10 Ways to Plan a Story
10 Ways to Improve your Writing Space
10 Ways to Get to Know your Characters
10 Ways to Create an Atmospheric Setting
10 Ways to Get Better as a Writer
10 Ways to Edit your Writing
10 Ways to Make Money from your Writing
10 Ways to Get your Writing Published
There will be a Facebook group to share and celebrate your individual responses. Click below for day one:
Introduction to Creative Writing
Following popular demand, I am delighted to introduce this ten week creative writing course which offers new writers the necessary tools to be inspired, motivated and to develop their writing skills.  Click here for more info: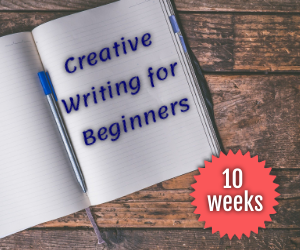 Enjoy the rest of your writing month and I'll see you next time. I release a blog post on the 8th of every month.
Bye for now.
With very best wishes,
Maria
PS: This blog post is also available as a YouTube video.
GET A FREE BOOK!
Click below to join my 'keep in touch' list and receive your FREE copy of 'The 7 S.E.C.R.E.T.S. to Achieving your Writing Dreams.