Hi there!
Welcome to Readerly Ramblings for April
"He places a large black jar on the counter. I can't believe that you've been shrunk to something that could be contained in this way."  Jamie Hardaker – The Last Cuckoo
The Idea
The idea for The Last Cuckoo began as a ghost story that turned itself into a psychological thriller.
At the root of it, I wanted to shine a light on the toxicity that can exist in families, particularly when new families are forced to establish themselves in the wake of divorce and remarriage.
I have been on all sides of the step-family dynamic – as an observer and as a family member. I have been a stepdaughter, a stepmother and my sons have experienced being stepsons too.
I know of situations where new families gel and grow, and other circumstances where the opposite is true.  This led me to considering how often the children of divorcing and remarrying parents have little say in the direction their family life takes.
Being forced together as a second time family does not always create harmonious bonds and The Last Cuckoo takes this concept to all its extremes.
Constructing a Page Turner!
The Last Cuckoo was the first psychological thriller I released in March 2020.  I handwrote the entire book and the story literally flew out of the pen. (Pardon the pun – cuckoo… Sorry!)
The book, once completed, was put aside for a year before release as I was waiting until after my wedding in the February so I could put my new name on the cover.
The story was set in very ordinary settings with much of the action taking place in the home or in the pub.  One of the most emotional scenes was set on Ilkley Moor so it was a pleasure to sit on the moor whilst writing this scene.  It was even more of a pleasure to sit in the Cow and Calf Pub afterwards to conduct vital research for the subsequent scene!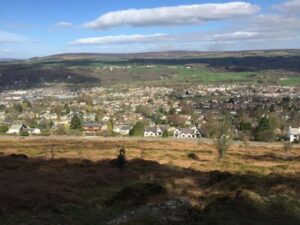 Relationships with exes can be notoriously difficult. Parents sometimes poison their offspring against their other parent and the new stepparent.  And there can be all sorts of other issues, such as jealousy, rivalry and fear of change, to name but a few.
Being in my forties, I have talked to and know of lots of people who are trying to make a success of newly blended families with varying degrees of success. I amalgamated aspects from some of the worst real-life scenarios I had heard about, blew them up and made sure they would be good to read about by sprinkling them with some of my dark imaginations.
Reviews and Research
I was blown away with the comments of Steve Whitaker who is a literary critic.  If he says something is good to read then it certainly is.
But he says this in such eloquent English as demonstrated in the detailed review he published in the Yorkshire Times.  I was also lucky enough for him to endorse the back of the book.
If you have already read The Last Cuckoo you will know that the narration is done using second person narrative.  This style of writing isn't for every reader but having taken this chance, I was pleased to see it well received both in The Yorkshire Times and by reviewers on Amazon and Goodreads.
Even though this novel emerged from supposed ordinariness, some extraordinary, and rather dubious research was required.
What broken bone in your neck would kill you?
How long does it take to be strangled?
How are bodies removed from a house?-
Length of time to claim life insurance.
Can ashes be scattered on Ilkley Moor?
The records of those searches should be enough to whet your reading appetite without giving too much of the story away. But here's the prologue…
Prologue
Your hair wafts in the breeze through the open door. You lie, still as a rock, your eyes partially closed. Blood trails from your ear to the floor.
Then I notice the line of your neck. And know for certain, that you're no longer here.
To get your copy of The Last Cuckoo, click below: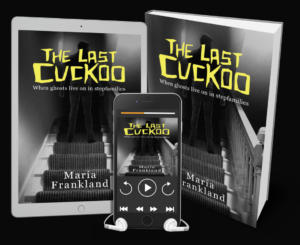 "An interesting and entertaining story that keeps one guessing through the end. Grief, loss, jealousy, and greed prevail with strained relationships. I couldn't have predicted the conclusion. What a turn around of events!" Amazon Reviewer
What I am Reading:
His Wife's Sister by A J Wills. At the moment, I'm feeling like I know whodunnit, but I'm probably being led up the wrong road!
What I am Writing:
Last Christmas: For who?
I really wanted to write something set at Christmas but this novel grew darker than initially planned!  It is currently at fourth draft stage.
What I am Editing:
The Brother in Law: Keep your Enemies Close
Watch for this FREE novella which is coming soon on Amazon – hopefully in early May!  My cover designer is currently finalising the cover.
Quote of the Month:
Words of wisdom from Agatha Christie.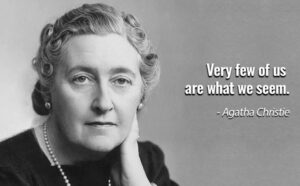 Thanks for being here – see you next month.
Bye for now,
Maria
PS: This blog post is also available in video format on YouTube. I post a new blog for my readers on the 18th of every month.
GET YOUR FREE E-BOOK!
Click below to join my 'keep in touch' list and receive your FREE novella.