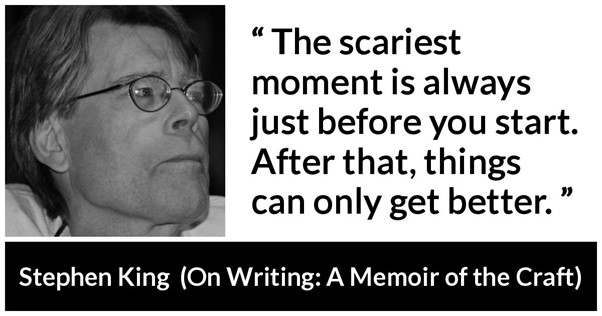 You can only ever get better at writing!
Hi there and welcome to March's Writerly Witterings.  This month I want to show you how to get better at writing.
Write.
Take every single opportunity to improve your writing craft.
Read.
However, beware of 'comparisonitis' when writing.  Click here for an earlier blog post on the subject of unfavourably comparing yourself to other writers and here is a scenario you must guard against…
Imagine you have just read a reeeeeally good book…
You feel sad that the book has come to an end and feel as though you're going to miss the characters immensely, as well as the world the author has created.
You leave a five star review on the book page on Amazon, noticing that the rest of the reviews are as good as the one you have just left.
You've been dreaming of writing a novel for as long as you can remember.  Perhaps you have had several false starts or perhaps you have a half written manuscript in a file somewhere, but somehow the characters and the story have stopped living within you.
As you place the book you have just read on your shelf, you say to yourself, I will never know how to write a book as good as that.  Even if I ever managed to write 80,000 words, how on earth can I ensure the reader keeps turning the pages from beginning to end? Etc, etc…
Rest assured that most writers have these doubts, particularly when working on their first large writing project such as a novel or memoir.
The answer is not only to work on your craft as a 'whole,' but also to take individual areas of writing skill and knowledge and develop these further.
Which is why this month, I am offering sixteen free How to Write Masterclasses on YouTube, as follows:
Time to Write
Your Writing Space
Creating Character
Setting
How to Write Dialogue
Show, Don't Tell
Planning
Story Openings
Believing in Your Writing Self
Pace
Tension
How to Write Story Endings
Editing
Writing a Synopsis
How to Write your Cover Letter
Getting Published
Each lesson focuses on an element of writing and offers a related writing activity. The first lesson can be found by clicking the video link:
Let me say it again, writing is something you only ever get better at.  Better and better and better.  The more you write, the better you get.
So let's now get those notebooks and pens at the ready! Here are the five main areas which always benefit most from regular writing practice.  I have offered a mini writing activity for each one…
Setting
Bring to mind a place you have enjoyed visiting. Close your eyes and visualise it. Remember the sights, the sounds, the smells, the tastes and how it made you feel.  Now use this multi-sensory approach to bring it to life through the words you write.
For further guidance on setting, follow this link.
Dialogue
Write a conversation between two characters, this can be fictional or autobiographical.  Choose from one of the following scenarios:
Being reunited.
An argument.
A promise made.
A lie.
Planning something special.
Saying goodbye.
For further guidance on how to write dialogue, follow this link.
Show, Don't Tell
Write about a spring wedding, using your words to portray the season and the occasion, without mentioning them by name.
For further guidance on show, don't tell, follow this link.
Character
Invent a fictional hero or villain.  Use the following prompts to bring them to life.
Name, age, occupation, home information, appearance.
Greatest fear.
Biggest regret.
A secret that are harbouring.
A talent they have.
A character flaw.
Something they want to change about their life.
For further guidance on character, follow this link.
Starting a Story
Use one of the following sentence starters, to open a scene.  You could bring in the character and setting you have already invented.
For a moment when s/he first woke, everything felt normal…
S/he checked her/his phone for the millionth time that afternoon…
It promised to be an evening that would change everything…
S/he needed to get as far away as possible…
Two police officers at your door are rarely going to bring good news…
For further guidance on how to write story openings, follow this link.
Feel free to post one of your responses to the writing exercises into the comments – I would love to read them.
Enjoy the rest of your writing month!
Thank you for your interest in Writerly Witterings. I release a blog post on the 8th of each month so I'll see you next time
Bye for now.
With very best wishes,
Maria
PS: This blog post is also available as a YouTube video.
GET A FREE BOOK!
Click below to join my 'keep in touch' list and receive your FREE copy of 'The 7 S.E.C.R.E.T.S. to Achieving your Writing Dreams.