Hi there!
Welcome to Readerly Ramblings for June
My focus for this month is The Man Behind Closed Doors, a novel that was released a year ago and remains my best selling novel.  To celebrate it's birthday, it's now available for 0.99, along with four of my domestic thrillers I have reduced to 0.99 from 15-22 June – click below: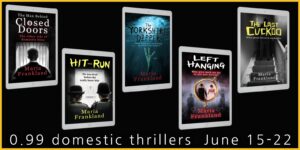 "Paul shuffled on the wooden bench, shifting his feet on the tacky carpet. All around them, glasses and conversation tinkled pleasantly, reminding him of a world he used to inhabit. Once, the aroma of steak which drifted from the pub kitchen would have tempted him. He might have enjoyed the luxury of lingering over another pint with Nick. He tried to think of how he could change the subject." Paul Jackson (The Man Behind Closed Doors)
The Idea
The idea for The Man Behind Closed Doors began to needle at me in 2012. My first marriage was coming to an end so I was able to plough the whole roller coaster effect into my writing.  It was escapist in that I could swap my own angst for the much worse life at the time of my fictional characters, Paul and Michelle, and cathartic, in that I could unleash raw emotion onto the page.
Domestic abuse is an issue that crops up frequently in psychological thrillers – I wanted my novel to be as unique as possible so decided to make a male victim the crux of the story and explore the effects of a man being trapped in this type of relationship – both near and far reaching.
Of course, all characters, real or imagined, have their reasons for acting like they do and The Man Behind Closed Doors explores those reasons, whilst also delving into a commonly asked question in relation to domestic abuse – why does someone stay?
Constructing a Page Turner!
The Man Behind Closed Doors, although released after The Last Cuckoo, was really my first novel.  It took me six years to write and it's where I learnt my craft as a writer.  I took it apart and put it back together so many times!
I was lucky to be helped with the first 20,000 words of this novel by submitting extracts for critique through my Masters in Creative Writing programme, and was also spurred on by a top ten shortlist placing for an international debut novelist award - The Luke Bitmead award which was in its final year.  There were so many stops and starts with this novel and so many times when I almost gave up.
But it's the novel of my heart – the one out of all of them that I most wanted to write.  It was quite an undertaking for a first novel in that it tells the story in two tenses, past and present, allowing the backstory to eventually catch up with the current story and settle within a courtroom drama.  And for readers who think the story's over with the verdict of the jury – it really isn't...
Research
As always, I was grateful to the internet, offering answers to searches such as these:
"Where could someone be stabbed where they wouldn't die straight away?
"What is the inside of a prison van like?"
"How is a jury selected and sworn in?"
"What different forms of domestic abuse are there?"
"What's the child protection procedure for a child living amongst domestic abuse?"
Do forensic teams check drains and toilet cisterns when carrying out their searches?"
I was a little nervous conducting internet searches such as the above but when the internet police didn't come knocking, I realised I would be safe in subsequent books!
The records of those searches may be enough to whet your reading appetite without giving too much of the story away. But here's the prologue…
Prologue
Dogs are good at keeping secrets. That's because they can't talk. I used to get told off for talking all the time. Now I'm told off for not talking. People keep asking questions. About what I saw. What I heard. How I am feeling. I don't want to talk anymore. I wish they would all leave me alone.
The girls at school have stopped trying to play with me and be my friend. That's because I don't have my mummy and daddy. I'm different from them. But I have my dog. She's my best friend. I can talk to her just by thinking things, so I am able to tell her everything.
To get your copy of The Man Behind Closed Doors, click below: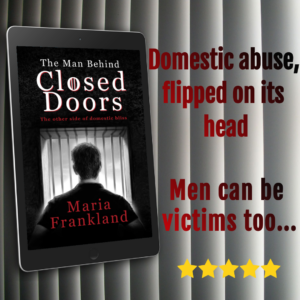 "I love this book, which is full of suspense, plot twists, obsession, jealousy, domestic violence, mental health issues, and the effects of a dysfunctional home on an innocent child. From beginning to end, this is a great read. I couldn't put this book down." Amazon Reviewer
I also have two signed paperbacks to give away.  I'll draw names from a 'hat' on 25th June.  If you'd like yours to be in there, click here to let me know.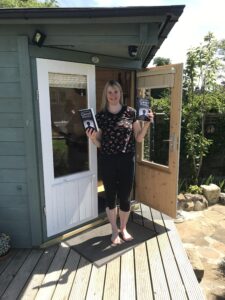 What I am Reading:
The Perfect Couple by Jackie Kabler – As a novelist, I'm dreadful for not accepting a novel at face value and trying to decipher technique and read behind the lines. With this novel, I'm six chapters in and absolutely certain I know whodunnit already – I so hope I'm wrong!
What I am Writing:
Drowned Voices: When guilt cannot be silenced
I'm at 30,000 words of the sequel to The Yorkshire Dipper.  It's the first time I've written a sequel and I'm finding it quite a challenge in terms of tying it to the first novel and also ensuring that it can stand alone as a novel in its own right.
The other challenge is knowing where to spring the surprise that will have to be sprung. Those that have read The Yorkshire Dipper know exactly who dunnit.  This book explores why dunnit and will a comeuppance be had? And perhaps another perpetrator will rise up from the depths.
As a writer, it's as exciting for me to find out as I write!
What I am Editing:
The Hen Party: First there were 10. Then there were 9.
This novel is now with my Advance Reader Team and I'm responding to their feedback as it comes in.  They are a wonderful group of readers who offer their time to give last minute feedback on my novels and the diversity of their feedback is a joy.  Some knew from the off who dunnit – they say! Some suspected. Some had no idea.
One thing's for certain.  No one would want to be in attendance at that particular hen party.
Quote of the Month:
Something I often say in my book promotions – and to be honest, speaking both as an author and from past experience – it's very true!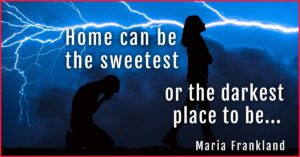 PS: This blog post is also available in video format on YouTube. I post a new blog for my readers on the 18th of every month.
Thanks for being here – see you next month.
Bye for now,
Maria
GET YOUR FREE E-BOOK!
Click below to join my 'keep in touch' list and receive your FREE novella.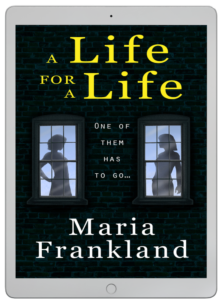 A mother-in law. A daughter-in-law. A deadly dynamic...A mother-in law. A daughter- in-law. A deadly dynamic...