Welcome to my blog - I hope that you're feeling full of renewed spring writing energy.  In Writerly Witterings this month, I'm giving you ten ways to get to know your characters, and there's an associated writing task at the end.
Giveaway Winner
Before I get to that, it's time to announce the winner of my latest giveaway.  Well done to Linda Higgins!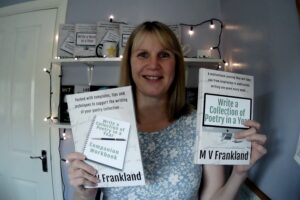 I'll be announcing details of my next giveaway in my next blog post.
Each month this year I'm focusing on the 'ten ways to' series.  So far we've had ten ways to find more writing time, and ten ways to generate writing ideas.  These blog posts, as well as many more, are also available for you to watch on my YouTube channel. 
Ten Ways To Get to Know Your Character
Apply points 1-9 below, firstly to a 'main' character, then go back through them, doing the same with a 'secondary' character. The more at odds the two characters are with each other, the more potential there will be for an exciting plot to materialise.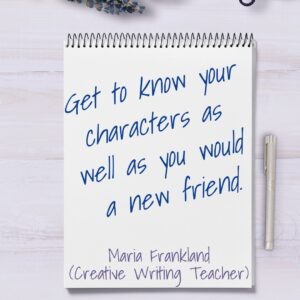 Not all the details you invent here will be relevant but the better you know your characters, the better you can bring them to the page. Don't overthink this process, rather, act on the first thoughts you get.
Who are they? Name, age, occupation, any other basic details.
What do they look like? You could even work from a photograph or picture on the internet to answer this.
Where have they come from? What's their backstory?  What about family details?
Go a bit deeper. Jot down notes about their talents, fears, sense of humour, habits and dreams. What matters to them?
What do they want the most?
What is getting in the way of this?
How do other people see them? What do other people say about them?
How could who they are now change?
Write a monologue in their voice in fifty words. For example.  My name's Donna, and the life I want belongs to someone else, etc…
Write a dialogue between your first character and the second character. Here's a link to a video I've recorded about dialogue.
Your task is the last one, the dialogue prompt.  Just through getting to know your characters, a situation between them should have begun to emerge.
Write a piece of 'flash fiction,' that is a moment in time between them, in no more than 500 words. Ensure it has a gripping opening line and that what's being said between the characters is a conversation we would want to eavesdrop on!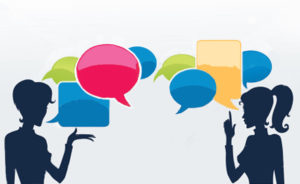 Let me know in the comments which of these tips you're going to try, or whether you use any of them already.  I love to hear from other writers and always reply to every comment I receive.
I have a Facebook group set up for the purpose of sharing and celebrating responses to my videos.  Click here, request to join and I'll let you in.  It's a lovely, friendly group and a great place for you to get other writers reading your responses to my writing prompts.
My YouTube Channel
Let me tell you now about the work and planning I've been doing for my YouTube channel.  It's undergone a revamp and going forward, the format is going to be as follows:
Motivation Mondays – a weekly video which will nudge you in the right direction.
Writing Tip Tuesdays – this will contain tips to improve your writing craft.
Writing Prompt Wednesdays – A topical prompt to be approached either as fiction, autobiographically, or poetically.
Thriller Thursdays – as a psychological thriller writer – thriller Thursdays are a must.  Join me for these weekly videos to develop the dark side of your writing, and
Freedom Fridays – A chance to get out and about in the world and fill your 'creative well.'
Then on the second Saturday of each month, I'll release my Writerly Witterings videos and blog posts.  Then on the fourth Saturdays of each month, it's Readerly Ramblings, my regular video and blog post to keep in touch with the readers of my thrillers.
So lots and lots to keep you motivated, inspired and supported and I'm really excited about this new format.  I can't wait to hear what you think.  But in the meantime,  if you haven't already, do subscribe to my channel.  This ensures you won't miss a thing.
You can also keep in touch with me by joining my 'keep in touch' list.  I'll send you a free book to download, 'The seven secrets to achieving your writing dreams' as a thank you for joining.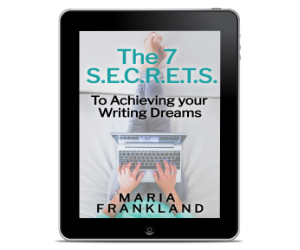 Just before I leave you let me mention a book I'm reading at the moment, Atomic Habits. Drop into the comments if you've read it too. If you haven't, I really recommend it.  This is a book that could be applied to any area of your life, but if you keep writing in mind as you read, I promise it will instil a new fire in your work.  It brings together so much of the 'baby steps' approach I use in my courses.
And whilst I'm on the subject of courses, if you want to know more about my writing courses, follow this link to my course page, or to find out more about my how-to books for writers, click here.
All that's left to say is thank you again for your interest in my blog, do drop me a comment, if only to say hello, and let me know you've been here.
Happy Writing and enjoy the rest of your writing month. Bye for now.
With best wishes, Maria Frankland
PS: ☕ To support my work as a creator, visit https://buymeacoffee.com/mariafrankland
We writers drink gallons of coffee, and at the end of 2022, for each coffee you'll be able to choose one of my 'downloads for writers' help sheets to support you in your writing.